Currently (as always) I have a ton of things started, and many more ideas I want to jump into, but I am also finishing some things. *Pat on my own back* Here is one of the 2 high chair covers I made for Tyler. I found this cool Fisher Price high chair at Good Will but it had no cover. I can't find any in stock online, and the ones I saw on Etsy were $45 each! So I created my own pattern and made 2. Same fabric, which I got at Connecting Threads and LOVE. This one has a dolphin appliqued on - the other has a dark brown giraffe. You can see that he likes it a lot. He kept pointing to the dolphin and saying "daaa?"
If you haven't shopped at Connecting Threads you are missing out. They make their own fabrics and thread in America. And the thread is such * a * deal !! 1200 yards for less than $2 and in a ton of colors! Good quality too. Way better than Coats and Clark, if you ask me.
Also I have finished binding this hexagon quilt I made. My first Jelly Roll project! "Fresh" by Deb Strain for Moda. Such bright citrus-y colors! The pattern for it was the cover quilt of McCalls Quilting October 2008. Fun to make, but no instructions on binding those inside corners. Let's just say they aren't pretty, but it is done. And Tyler loves the colors. He admired it when it was just in the layout stage on the design wall he was maybe 6 months old! He's going to be an artist, I tell ya!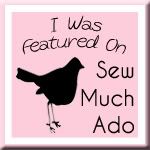 I have 3 skirts done, but no pics yet. Sorry. I will get them taken tonight. Promise.