With allergies, sometimes you have to do things without knowing how you'll finish it. Like tearing out carpeting when you have no money for new flooring. This is what we did this week in Tyler's room. My daughter and I tore up all the carpet, the padding, the tack strips and got down to the cement floor. No more dust mite ridden (and stained) carpeting, but cement is not a kind surface for a three year old boy who likes to flop down on his knees or fall and pretend to be dead after a sword fight.
What would we do? I considered the cheapest possibility: linoleum. That meant fumes from glue and trying to wrestle a big sheet of it, cutting around corners etc. Not what I want to deal with right now. I knew there had to be an easier answer. And there was!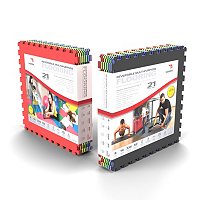 These
foam floor tiles from Sam's Club are interlocking and they are for safety/anti-fatigue. Cushiony underfoot. No glue or anything. And they are 2 feet square! I could have put the primary color sides up, but went with the dark grey side instead. I used an acrylic quilting ruler and a box knife and was able to cut around the closet and walls to fit these easily. Less than $22 a pack and it took only 4 packs to cover all the floor space including closets. What a deal, right?
Tyler likes them so much, he wanted to sleep on the floor that first night. Ha!
Two of the sides on these tiles are straight edged, but you can pull off a narrow strip to reveal the interlocking shapes. This left me with a pile of narrow strips that were puzzle pieced down one side. I was wondering how I'd store them without them getting torn up or bent, but Tyler knew just what to do with them! He started fitting those long strips into pairs and hammering them into place with his Black and Decker kids hammer. He said he was making swords.
He thought of this all on his own!
I am impressed.
A little work the past few weeks with
jigsaw puzzles
and he has a whole new hobby! These are the Melissa and Doug wooden puzzles in a box. Dinosaurs. We put them together over and over. Then we talk about what kind of dinosaur is in the picture and what they eat. Mostly he is telling me, thanks to the show "Dino Dan" on Nick Jr.
So now we have a safe, cushy, hypo-allergenic floor for his room. I hope this gives some of you an idea of what to do in your play room or kids room!